Taylor Walker and her owners embarked on an incredible journey to better her health and increase her quality of life. When I met Taylor on April 7th, 2016, she was 11 ½ years old and weighed in at  116.4 pounds. Taylor has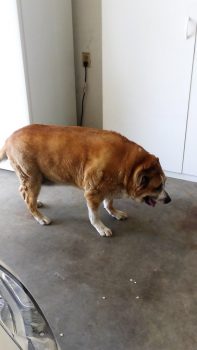 always been on the heavy side, but it was starting to affect her quality of life.
Her owners brought her to us, concerned that they were going to have to say goodbye. At this point, Taylor struggled with getting up, walking, and would have to sit after only a few steps. After completing a full wellness exam, Taylor passed with flying colors with exception to some arthritis and being overweight. With her owners and the doctor's help, we decided to try and help her lose the needed weight.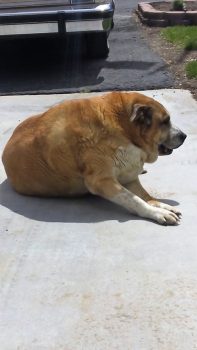 Setting up Taylor's weight loss plan was all about diet since exercise could be harmful in the beginning stages since she was out of shape and arthritic. First, we looked at everything that Taylor was eating in a day. It turned out that the quantity of what she was eating wasn't that much, but the caloric intake was!  We started Taylor on Purina Veterinary Diets OM Select Blend dry dog food and used the Purina Veterinary Diets OM canned food as a snack, plus a small amount of lower calorie treats. Taylor then came in every two weeks to make sure she was going in the right direction. Her owners were awesome about bringing her in, despite it being difficult to get her in the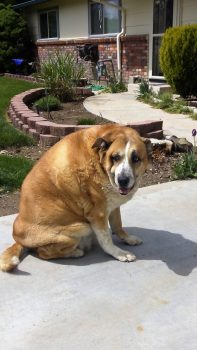 car. It wasn't long before Taylor started venturing out into the backyard and could take a lot more steps before taking a break. Everyone could see the difference this new lifestyle was making!
On September 6th, 2016, we had a setback, Taylor had torn her ACL. Due to her age and weight, she was still not a candidate for surgery. This did not stop her owners from continuing with Taylor's weight loss. We had lengthened the amount of time between weigh-ins and checked in on her over the phone.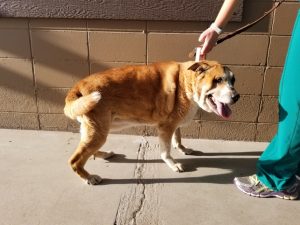 A little over a year since the journey began, Taylor came in and weighed 66.8 pounds! She has lost over 49.6
pounds, now chasing cats out of the yard and feeling great! She is continuing on her weight loss journey and has finally reached the finish line.
I wanted to share her incredible story, not only to give major congratulations to the hard work and dedication to
Taylor's owners, but to let others know that you can do anything you put your mind to. We need to be the advocates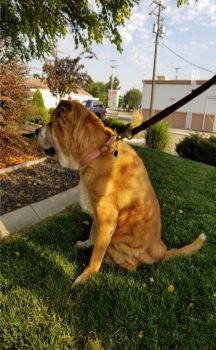 for our pets. Yes, genetics can play a role in obesity, but the number one cause for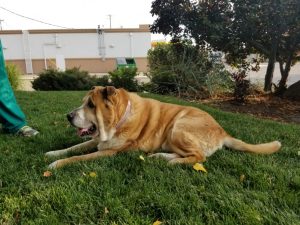 obesity is humans. We are loving our pets to death! One study done by Purina showed overweight and obese dogs are likely to live 2 years less than dogs that are of a lean and normal weight. Let's help our dogs live longer. If you're ready to start your own
remarkable journey with your dog and learn healthy ways to show your love, please contact Idaho Veterinary Hospital.